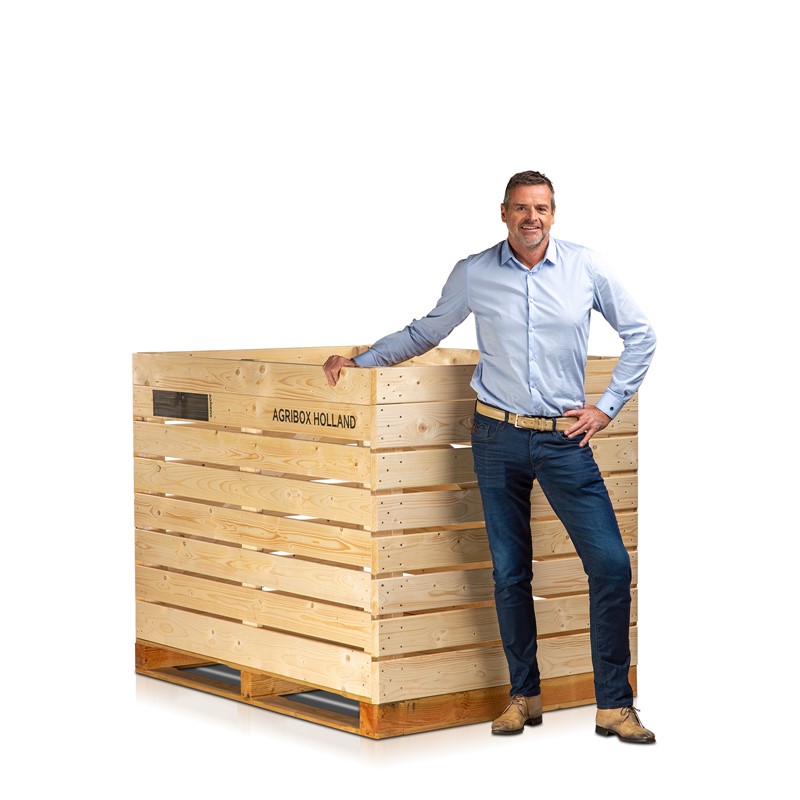 The farming sector; a great market to be working in!
AGRIBOX Holland
Born in the beautiful village of Oosterbeek in 1963, Bertjan started his career working as a substitute for "De Kistenmevrouw" during her vacation.  The largest online marketplace for agricultural boxes  "Can you take care of that, Bertjan?".
By working efficiently and solution-oriented, he got through this period. His no-nonsense approach and good results made his temporary job a permanent one. This way a nice opportunity for cooperation was born and it was also the start for his own production company Frieswood.
The collaboration between De Kistenmevrouw, Lapack Agri and Frieswood resulted in AGRIBOX HOLLAND in 2019.
Bertjan has 20 years of knowledge and experience in wood-related production companies, in which putting your own product on the market was the dominant theme. Four years of international experience combined with exports created the right mix to make his own long-cherished dream come true; starting his own company!
"The mix of trading, making something tangible and the export angle are the elements par excellence of doing business. All of that is present in the farming sector. A great market to be working in; doers, quick deciders, a clear way of doing business and a no-nonsense attitude. All of this suits me down to the ground".
"Choosing the standard model will save you a lot of money!" - Farmers Willems from Uithuizen
By choosing a standard model you save a lot of money!

Farmer Willems from Uithuizen